Welcome to Commitment's kennel in Sweden!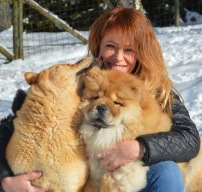 My name is Anna-Lena and I live with my fiancé Marcus in southern Dalarna in Sweden.
I have had the breed Chow Chow since the end of 1990 and over the years I have learned a lot from my experience with the breed.

My kennel name Commitment's were registered in the Swedish Kennel Club in 2005 and my first litter
was born in May 2008.

We follow the FCI breeding policy for the Chow Chow.
Our dogs who go into our breedingprogram are all x-rayed on hips/elbows and recording by FCI. We work hard to have a healthy breed, and we use both recommendations and our own common sense, which I think is often the most important thing.

Our breedinglines are a mix between the Nordic, Dutch, English and American bloodlines. We are working for a healthy Chow Chow and breed not at dogs with extreme exaggeration that makes them unable to live a normal life. We breed not on sick and defective dogs at all.

Commitment's kennel also has a cooperation with a few other kennels, to make it easier to move forward in our breedingprogram and to get new bloodlines to work with. We have an coperation with Nellwood's kennel and have also dogs re-owned by Lo'Zom's kennel here in Sweden and of course a lot of good friends around the world.

I have exported Chow Chow to Canada, USA, Italy, Denmark, Finland, Netherlands, Estonia and Norway and some of my breedings have had great success in the showrings and also in breedings, both in Sweden and abroad. That's so fun and intresting to follow "our" dogs all over the world.
We can not guarantee that a puppy from us is healthy throughout life but we guarantee that we will deliver a healthy puppy. Puppies from us is always veterinary inspected, vaccinated, dewormed, chipmarked and they have the pedigree that is registered in the Swedish Kennel Club.

We are an serious kennel where the dogs get a lot of attention, walks and they live inside with us in our home as familymembers. The kennelconsultant has been here and we have proof that of our kennel is in order.
If you have some questions - Please contact me!

Anna-Lena Karlsson
Karlsängsvägen 57
SE770 14 Nyhammar
Sweden
Cellphone: +46(0)70-3619614
E-Mail: info@commitments.se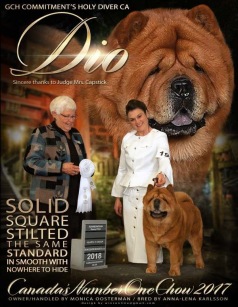 Links around our website: